Posts for the month of August 2010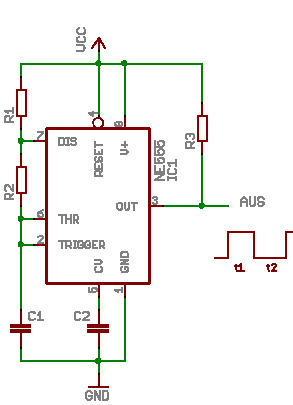 heute wurde das geraet (eine cisco 2950) 'gewartet'.
*pust* *hust* *geplatztenelkotausch* und die chips mit kleinen selbstklebenden sowie einem
groesseren rastenden kuehlkoerper versehen. daher ist der switch jetzt voellig fan und soundlos. :)
problem:
die system led bleibt ohne fan gelb.
loesung:
dank Bild2(am rand) aus ​http://www.kreatives-chaos.com/artikel/ne555-grundschaltungen
(sowie der erkenntniss das bei cisco auf dem fan anschluss gnd und vcc vertauscht sind)
hat sich zusammen mit 2x10k (R1, R3), 1x47k (R2), 2x 100nF (C1, C2) und einem ne555
(2, einer verstarb dank cisco-pinout) ein schaltkreis ergeben, welcher einen 12V fan
fuer die cisco glaubhaft simuliert. die system led wird also gruen.
sollte generell auch fuer andere geraete funktionieren. der ne555 kann bis zu 18V ab und
schaltet mit ~54% tastverhaeltniss bei 140-150hz pin3 zwischen high und low.
bilder gips spaeter